Being short is not a disability, you need not be worried that you will fail to find the right dress that fits you. Of course, there are so many dresses that suit you and when worn, they will not only make you look beautiful but also flatter you. As a petite girl, you need to look at the following when selecting a suitable dress for you: First, understand your waist, make sure that the skirts you wear are short and with pointed shoes and boot. Also, always tailor your pieces and times you can try oversized but avoid excessively layer.
What are the best dresses for short ladies? This is the query most short women ask about and inquire for answers. However most tend to overlook this and as a result, end up dressing in dresses that do not fit them. Have a look at the following dresses that will always flatter short women.
Fit and Flare Dresses
This dress is also called a line or skater dress. It is one of the best dresses for short ladies. For instance, if your height is below 5'4" the most favorable length is three to four inches above your knees. This dress flatters short ladies because of its form-fitting at the upper section of your body. Often, this is the most recommended type of dress for pear-shaped ladies.
Wrap Dresses
Among the favorite dresses for short ladies at all times. This dress was invented in 1974 by Diane Von Furstenberg. It has the following features: it is versatile, convertible, workplace appropriate, and can be worn both during daytime and night. The moment you will buy this dress and get the chance to understand how it fits you and flatters your body shape, then you will regret why you stayed all this while without the wrap dress. This is confirmed by Victoria Beckham in her latest fashion book.
The wrap dress fits well ladies with a height of 4'11" or 5'4", and a curvaceous hourglass and rectangle shape. The dress also helps define the shape more so for those ladies with no waistline.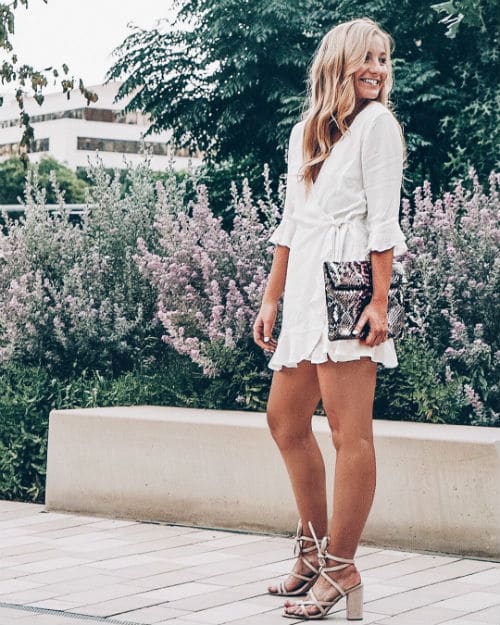 Empire Waistline Dresses
This is the kind of dress for those ladies who intend to take their petite fashion to an advanced level. The dress is designed in a way that flatters your body and makes you look more beautiful. It has the following features; it is high and at times below the bust line. It creates an illusion of longer legs by raising the waist-line above your legs.
Belted Dresses
When we speak of short ladies, belted dresses have to be mentioned in our lists. This dress has the ability to change your perceived body height. It suitable for those ladies with a height of 5'3." The dress has a belt whose purpose is to ascertain that the dress is positioned high so that your torso may seem shorter and your legs longer. It also helps define the waistline of rectangular shaped and apple bodied ladies.