Might be wondering what a bandage dress means, this is a light fitting bodycon dress made from multiple thin strips of clothes that are combined together. With different strips resembling bandages. This dress is made of spandex material that makes it to stretch. What many people are not aware of is that this dress is not as stretchy as a standard bodycon dress. Therefore, this is the right dress to wear in case you want a dress that accentuates your figure well. In this article, we have come up with a guide on how to style your bandage dress so that you look beautiful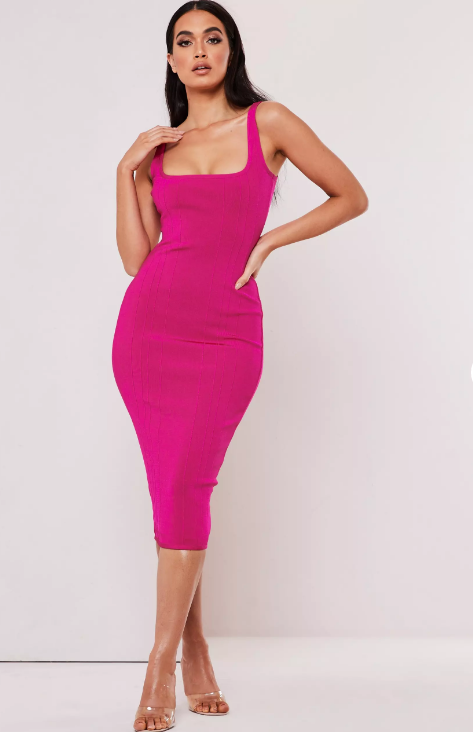 Use Shoes to Change Your Look
Wearing the most appropriate bandage dress is guarantees you complete confidence. However, when dressed in a bandage dress, the type of footwear to complement with should not rhyme with the color of your dress. Often, heels and full-blown stilettos are the appropriate types of footwear.
Be unique and pair your dress with a contrasting pair of shoes for effect. For instance, wear your black bandage dress and pair it with a pair of vibrant-sparkling heels or with a bold red pair of shoes for a pop look. In case you are wearing a short dress, then go for heeled booties or ankle boots.
Use Layers to Add Texture to Your Dress
Try pairing your bandage dress with either a coat, oversized vest, shrug or blazer. Make sure that the type of corset you pair with your dress is not only complementary but also useful. This will help add texture and look to your dress.
Assume you want to dress the dress for a casual look, then pair it with a denim jacket or shrug for an edgy appeal. In case you want it official, pair it with a fitted blazer. In case you have a solid dress, pair it with a trench coat or patterned cardigan.
Belt Your Dress with a Gracious Style
Adding a belt to your dress is a great way to break the monotony more so in a solid colored bandaged dress. A belt is useful in flaunting and exposing a slim waistline giving you an illusion of curves on your waist.
Often, it is recommended to pair your dress with either a narrow or wide belt to accentuate your waist.
Be Cautious When Choosing Your Bling
In case you are not aware, pairing your dress with jewelry makes you look more stylish. Try going for a silver base on the neckline of your bandage dress for an eye-appealing and neck-breaking experience.
Also, the dress you wear should have a plunging neckline, long necklaces, and noticeable pendants. However, if you intend to dress a bandage dress that exposes your shoulders, then avoid jewelry.