When the topic of waist training comes up, one of the most common point of confusion is what a waist trainer actually is, i.e.what are people using to 'train their waist.' Since Kim Kardashian posted photos of herself in a latex cincher, companies have cropped up everywhere selling latex garments (or fajas) and the terminology has become quite blurred.
The latex garments, referred to as 'cinchers' (a term which has an entirely different meaning within the corset community), are also being referred to as 'corsets', which causes confusion. The term 'corset' is not only being used by companies who sell these garments, but also in newspaper and media reviews. (For anybody who saw the Dr. Oz review, this was a cincher and not a corset!) And of course the topic of that review is need for a whole other article…
A corset by definition is never made from stretchy material. It fastens at the front with a steel busk, and laces up at the back. It will have a defined shape, and if it is an hourglass corset will cinch mostly at the waistline. Contrary to popular belief, a well fitted, quality corset is very comfortable. This is because the compression is in specific areas (as opposed to a cincher which applies pressure to the entire midsection at the same rate) and the laces allow the user to adjust to comfort.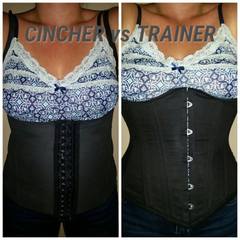 What should you consider before deciding on a corset or cincher?
1) Do you want to exercise in the product?
If you're looking for a product you can wear during cardio and to burn a little fat off the tummy (and possibly temporary water weight) then a cincher may be of benefit. The one thing to be cautious of is the amount of compression on your lungs, as you should have full lung capacity for any form of cardiovascular exercise. This is another reason why we favor corsets to cinchers – with a corset you wear during day to day activity but never during exercise. Additionally, the compression is focused at the waistline, and you can adjust the lacing near your ribs to breathe comfortably.
2) Are you looking to change the shape of your midsection, or simply burn fat in your natural shape?
A cincher may help you lose a few inches but cannot change the shape of your body. A corset, on the other hand, can actually change the morphology of the fat and muscle in the area and redefine your waistline in an hourglass shape. This is particularly useful for those who find that no matter what they do they cannot lose weight around the middle.
3) What is your end goal and how much do you want to spend?
While a corset may seem like a huge investment to some, it will actually cost you less in the end. A large percentage of our customers come to us when they realize how uncomfortable cinchers are. But even if you're happy with a cincher, it can only take you so far: Typically you can only lose around an inch before your cincher is stretched out and no longer fits snugly. With a corset you can lose 6-8 inches with the same corset if it's sized for waist training. As you get smaller, you lace tighter. So the cincher that cost $50, after multiple sizes now has you investing between $200-300
So how do you know if you're really purchasing a cincher?
1. Corsets are fitted based on measurements. If a company is not asking you for your measurements and instead is simply sizing their product by S, M, L etc., this is a cincher
2. The item hooks in the front, or does not have any laces in the back. The fastening system for a cincher looks like the hooks on a bra closure
3. The material is stretchy
Be wary of advertisements which claim that a latex cincher is 'steel boned'. If this is true you will be very uncomfortable in the garment, as the boning cannot be properly reinforced in such a material. Reinforced boning channels in a corset keep the boning where it should be, which means there is no poking or prodding!
The one time we would recommend a product other than a corset would be immediately post- pregnancy when you can use a belly binder to wrap your belly. This should be worn for the first 4-6 weeks after pregnancy, or until your doctor gives you clearance to start waist training with a corset.
Happy Waist Training all!!