Get an hourglass shape with a waist training corset
By Carla Snuggs
Right now, one of the hottest items in shapewear is the waist trainer. In search of the perfect hourglass shape, celebrities like Kim Kardashian wear waisttrainers to slim and trim their figures. Kim recently posted a photo wearing a purple corset.
A weightloss corset like this helps support long-term slimming and may help you lose inches through the science of compression. The latex lining stimulates thermal activity and perspiration, mobilizing fat and toxins. You will see results as soon as you put it on. Add time, plus a healthy diet and active lifestyle and you're going to love the edge a garment like this gives you.
To find out more about different types of waist trainers and high compression garments, Posh Beauty Blog turned to Ruben Soto, owner of corsets-wholesale.com. Here are Soto's waist training tips and tricks.
There are plenty of high compression garments that will produce the desired results instantly (general high quality shapewear). With that said, there are products that are best to increase thermal activity in the midsection and others that are best for more traditional waist training.
Corsets such as the Amia Cincher are recommended for an instant 1-3 inch reduction of the midsection. This cincher works due to the PowerLatex core that stimulates thermal activity and perspiration in the midsection.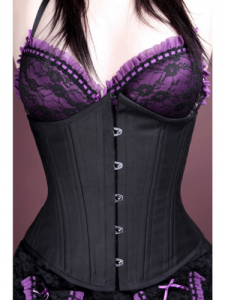 Steel-boned waist training corsets such as our Black Cashmere Underbust Corset (above) are meant to reduce inches over time through high compression from tight-lacing techniques. The result overtime is the readjustment of the lower ribs for a more defined, hourglass waist. Typically, someone would wear the corset comfortably for a short amount of time to build up tolerance, then make it tighter and wear it for a longer period of time.
The DO's and Don'ts of Wearing a Waist Training Corsets
Do's
• Wear the garment for a few hours at a time to build tolerance.
• Wear the corset for longer periods after you become comfortable.
• Select a proper fitting item.
• Discontinue use if you feel any discomfort.
Don'ts
Do not continue usage if you experience any of the following
• Numbness in the legs
• Shortness of breath
• Sharp stomach pains
• Pinching
Why I LOVE Cincher By Amia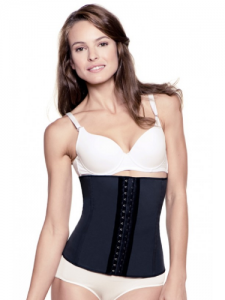 I was sent Cincher by Amia, a beautiful waist training corset, and I love it! I wore the cincher for three weeks and found that I naturally ate less and lost about an inch off of my waist. Amia's cincher is great because it allows you to wear any style of bra or panty. The cincher has PowerLatex and FlexiBoning, so it is super comfortable and doesn't dig into your skin like other waist cinchers. It's also got a 2-row frontal hook and eye design so it's really easy to put on and you can continue to use as you slim down.
Have you ever worn a waist training corset? Leave your comments below – I'd love to hear about your experiences!