Imagine you have just come home from work, from the gym or from school and university, and a friend of yours or your partner invites you to a cocktail party or a dinner that you cannot lose. A dinner to which it will follow a walk, a drink or a ticket to see a movie with friends… and you are totally desperate as you don't know what to wear and where to start to get dressed up for the evening! Your makeup has to be freshened completely after a stressful day, your hair is a mess and has to be fixed, you have hair on your arms and legs that need to be substantially removed by the use of waxing, razor or epilator… and then you have to choose the dress to wear! You take care of the rest and let me deal with convincing you to wear a cocktail black dress to make you feel more beautiful and forget about the daily stress, my dear!
1) It makes you tidy and it's very slimming
On one side there is the black colour, on the other a cocktail dress, a versatile over-the-knee length dress which adds a slim touch to your silhouette and gives you a sense of total settlement, even if you haven't been to the hairdresser in a while and have matted hair.
HotSquash – Black Spaghetti Strap Ponte Dress
2) Pair it as you like
It's a black cocktail dress, a classic style that never goes out of fashion and that leaves little room for being creative, but let's face it, you don't have time to be creative tonight! So take out a pair of sandals, high boots or little more sporty boots: this depends on the kind of evening you are going to spend. Wear something more elegant if it's a dinner date, putting on sandals and a bag, and indulge yourself with accessories. If instead you go out with friends, wear something more comfortable: say yes to sporty boots and maybe to something more colourful. I advise you to stick to softer colours like nude, beige, black and white for the first type of invitation, and to indulge yourself when it comes to the second one. I mean, they are just friends, aren't they?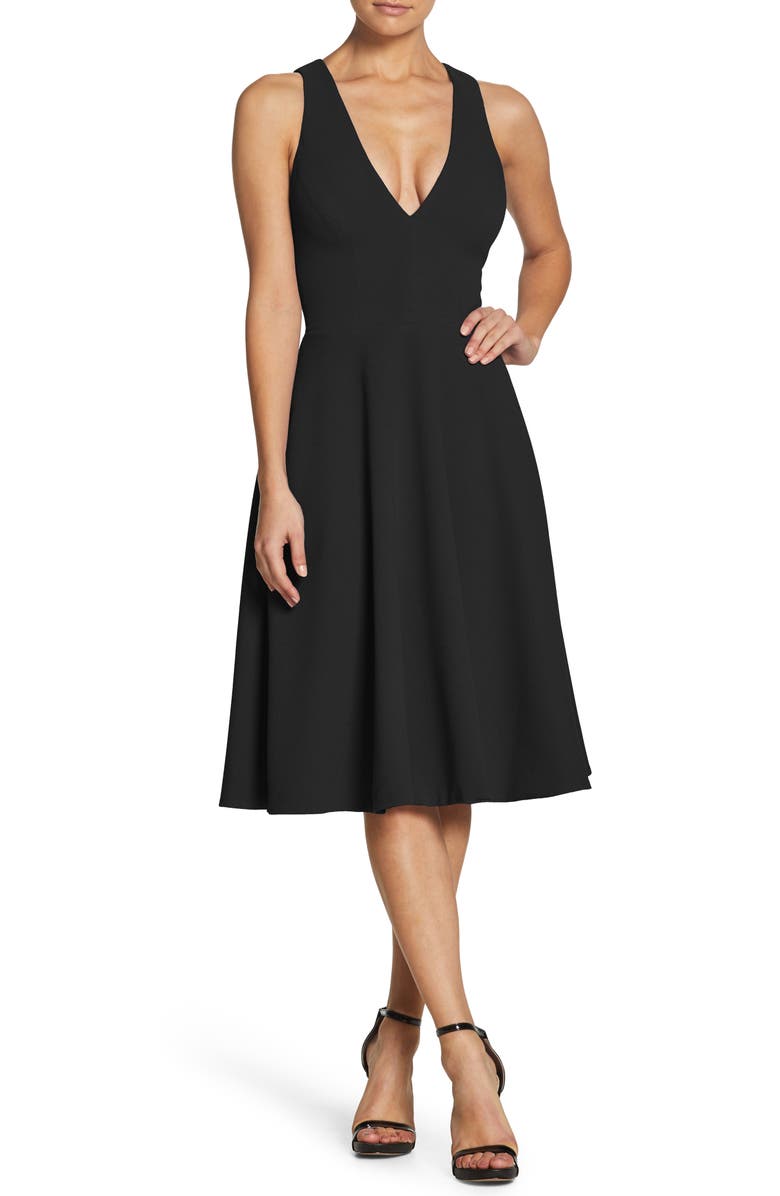 3) Black is always a good idea
It will seem that you made the classic choice of wearing black because you are the one who never wants to dare a bit wearing a different colour. Well, get this out of your head: you can never go wrong in a black dress since black will always give you that new but at the same time classic effect which is a pleasure for the eyes of those who look at you but especially for you looking yourself in the mirror as soon as you wear it.
4) Watch out for the style
Whether it is an online or physical store, you will find a lot of different types of cocktail dresses. I recommend the ones based on current fashion trends. Aim to those with puffy sleeves, one of the most popular trends this year; and if you do not want to fall into banality, opt for one with invisible layers (such as a mesh top style on arms and décolleté), an excellent choice to impress during a first date and to take the breath of whoever invited you (and of the whole restaurant) away as soon as you set foot in the restaurant!