Finding the best wedding dress is somewhat tricky and a complex task and when you are the mother of a bride then it becomes tougher because you want to look pretty but not too loud. If you are also facing such condition then here are some options which will motivate you in finding the best dress for your daughter's wedding ceremony. No matter what age you are, there are always a number of options in terms of clothing which can give you a great look as well as highlight you in the crowd. If you are a bit confused about selecting the best one then here are some evergreen options to help you with such problems.
Cold shoulder or off the shoulder
In the last few years, off shoulder dresses have become popular in every generation whether it is young or third. Everyone is looking forward to having such dresses in their wardrobe. If you are planning such dresses for your daughter's wedding ceremony then you can find long off the shoulder dress to enhance your looks. These types of dresses are usually available in different colors but being a mother of the bride you should select the color which goes with your daughter's gown.
Cold Shoulder Mother of the Bride Gown
Long dresses
If you were busy with different arrangements for your daughter's wedding and haven't got enough time to buy the best dress, then getting any type of long dress is largely going to help you as well as give a great look. Long dresses are available in a number of different patterns and colors in the market you can choose the best one which can contrast your daughter's dress.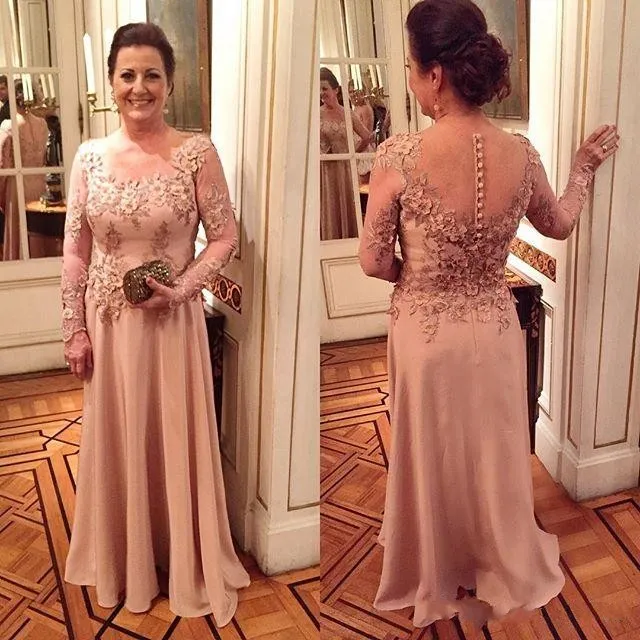 Printed dresses
If you have got tired of the same simple dresses and want to add a fancy sense to your look then heading towards printed dresses is the best option. These printed dresses are available in different patterns, lengths, fabrics as well as color. But being a mother you should always prefer a simple and sophisticated print that can highlight you in the party instead of over highlighting.
Metallic Brocade Evening Gown
Net style dresses
If you want to add a traditional sense to your daughter's wedding then a net style dress is highly going to enhance your looks. Some net style dresses infused with several embroidery designs can give an attractive look to the dresses. If you are thinking to get one then check out the season in which you are going to wear it because this one is not going to keep you warm in winter but for that, you have paired it with a matching scarf.
Ivonne D By Mon Cheri 116D31 Dress