Leather jackets make an instant style statement. Too many clothes in the wardrobe without a leather jacket make it look so incomplete. Jackets have always been a great trendsetter. Emerging from the silver screen to the high street fashion, leather jackets have always been in fashion and will remain to be so. Though real leather jackets can actually cost a fortune, you would never make a wrong choice by buying it.
Floral Print With A Jacket-Y Hint
Wear a leather jacket with a floral top and a pair of denim and you will be in the right mood within the wink of an eye. The brown ones or the black one, leather jackets make you look smart and cool. You don't have to waste much time thinking about teaming it up with any other attire. Simply, adorn yourself with a nice and printed floral top, a leather jacket and a pair of denim.
Dress To De-Stress
Dresses would look more wonderful and pretty if styled with a leather jacket. In this respective if it is a short jacket it would be better otherwise a long one would simply mar the beauty of your dress. Colour coordination is extremely essential as you have to keep in mind the colour of your dress and that of your jacket.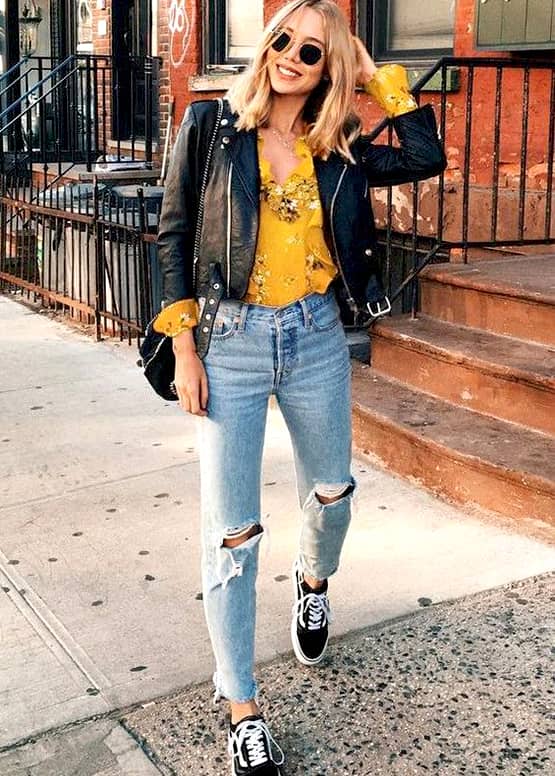 Pump It Up
For that cool look, you must wear the right footwear styled with your leather jacket and dress. Sneakers, stilettos, peep-toes, belles, pump shoes, boots and almost every kind of shoes go with a leather jacket. Those leather jackets worn with the proper footwear actually increase the heat, both literally and metaphorically. Chilly weather can be easily beaten with these jackets and boots. It gives you the boho touch besides keeping you warm.
Signature Style
Blue jeans and a white top is a pair made in the style store of heaven. This is a signature style that is a class in itself. The icing on the cake would be a leather jacket and you are ready to conquer the world. On a cold winter day, this can be your saviour in keeping away the wintry chills and also maintaining your style.
A Fortune To Cherish
For a change, you can wear a long skirt or a short one with a tank top and of course a leather jacket.  Style is affordable if you buy wisely. Though leather jackets can burn a hole in a pocket literally, it will be a onetime investment if you do so. Buying good leather stuff and repenting it later, has never been heard of. So, keep your fears aside and grab a leather jacket.