Its officially autumn/fall 2020, and it is time to welcome the glorious sweater weather with some popular and trending sweaters for the season. It goes without saying that sweaters are a fall and winter staple in your wardrobe. When the weather starts to get cooler, you can still wear your summer dress, just layer it with your trendiest sweater and sneakers and you are done.
While the sweater style only changes a little every year, but there are plenty of ways you can style your sweaters. However, there is no right or wrong way to style your sweater. A simple sweater goes well with anything and everything. Here are some tips to style your sweater to look stylish and fashionable. We are introducing some fresh trends that originated on the runways, are also practical in purpose and you will wear it well beyond this one season. This season designers are coming up with the classic knits style sweaters with some twist.
Chunky Knit Sweater – Neutrals are here to stay. We don't have to give up on neutrals in the colder weather. It works best if you choose a cream color than stark white. The classic style knit sweaters are always chic and easy to style with any pants or regular jeans. The light color brightens the overall appearance of your outfit. The loose balloon style sleeve is currently on-trend.
Sweaters with bold prints – This animal print sweater is popping and very attractive. While most sweaters for women are single, bold and solid colors, some unusual print and pattern makes it the hero piece of your whole outfit. You can style it with skinny jeans and keep it simple with a headband that is also so on trend this season. The frills on the sleeve are making a trending style come to life.
A simple linen blend cardigan – Even a simple front open cardigan can be worn regularly. Brown color is well loved for the autumn and fall time, makes it chic, trendy and casual.
Long Cardigan Sweater- A black long cardigan is a staple in every woman's wardrobe. It is easy to style and matches perfectly with some bright colored tops or a simple white shirt to that casual look. Long cardigans are frequently seen on the runways and social media. The length is refreshing to look at and you will wear it on repeat.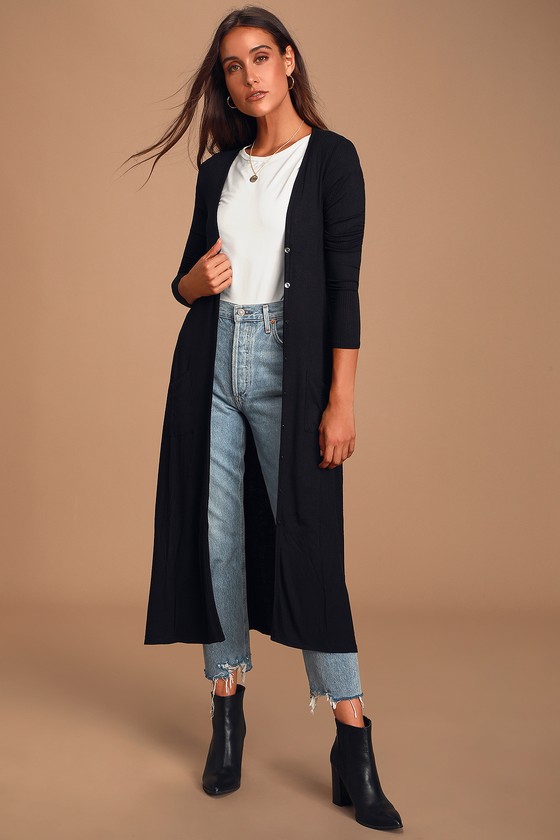 Solid Sweater dress – A sweater does not have to end at your waist. A sweater dress can be the most stylish outfit for autumn and fall. You don't have to worry about matching it with anything. It is like one and done outfit just put it on with your tights and boots and you are cool. You can also style it with heels and some jewelry for that delicate look.
This season the sweater style options are endless and always evolved in fabric and style. For this current autumn and fall, there are plenty of options to choose from. We have put together a few to inspire and motivate you for the sweater weather dressing this season.