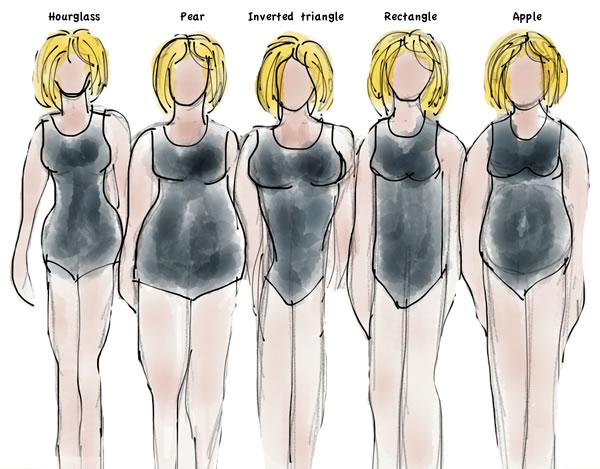 When it comes to dressing, there is no one-size-fits-all approach. Everyone's body is unique, and what works for one person may not work for another. That's why knowing how to dress for your body type and size is important.
In this blog post, we'll discuss how to dress for different body types and sizes, so you can look and feel your best no matter your shape or size.
Understanding Your Body Type
Hourglass body shapes are characterized by a balanced figure with a defined waist, where the bust and hips are roughly the same sizes.
To create balance and add definition to your curves, look for items that hug your body at the waist or draw attention to it. Waist-cinching belts, wrap dresses, and tailored jackets create flattering silhouettes.
Apple-shaped bodies usually have a larger bust and midsection, with slimmer arms, legs, and shoulders.
When dressing for this shape, draw attention away from the midsection and onto the legs and arms with A-line skirts, flare jeans, and lightweight fabrics.
Pear-shaped bodies are similar to hourglass figures in that they have a defined waist, but their lower body is fuller than their upper body. To flatter this body shape, opt for clothes that bring attention to your narrow upper body.
Tops with ruffles, statement necklaces, or embellishments along the neckline are perfect for this look. High-waisted pants are also great for pear-shaped figures as they create the illusion of a longer torso.
When choosing tops, look for details like ruffles and pleats, adding volume to the area. Finally, try wearing vertical stripes or patterns, which will help to elongate your frame. Avoid tight-fitting clothing as it may emphasize your already broad shoulders.
Dressing for Different Sizes
If you're petite, you need to look for clothes that will flatter your body shape while highlighting your unique frame.
Choose garments with vertical stripes or piping that draw attention upwards, creating an illusion of height. Avoid oversized clothing, as this can make you look even smaller.
Finding clothes that flatter your curves can be a challenge. Look for garments with structure and tailored details to help define your figure.
Also, don't be afraid to experiment with different cuts and styles, such as wrap dresses or ruffled tops, which can add texture and interest to your outfit.
When it comes to dressing tall, the key is balance. For example, you may want to opt for wider-legged trousers with cropped tops. It will give you the illusion of proportion. You can also create the illusion of curves with belted pieces or skirts with fullness at the hem.
If you have an inverted triangle body shape, you have broad shoulders, a narrow waist, and hips. To balance out the top-heavy look, you should focus on drawing attention away from your upper body and accentuating the lower half of your figure.
Whatever your size or shape, finding clothes that fit properly is the key to looking great. Take the time to try on different items to ensure they are comfortable and flattering. With the right clothing choices, you can look and feel your best!
Clothing THAT BALANCES OUT BROAD SHOULDERS
If you have broad shoulders, you want to choose clothing that helps to balance them out. It can be done with tops that create visual interest around the mid-section or bottom of your body to draw the eye away from the shoulder area.
Look for tops with empire waists, rushing, pleats, and patterns. You could also opt for a wrap-style top that ties around your waist or one with a deep V-neck. Looser-fitting tops with A-line skirts are also great for this body type.
Vertical stripes or patterns
Vertical stripes help to create a more balanced silhouette and bring focus to the waist and the legs, thus making them look longer and more toned. Opt for bold vertical stripes to make a statement and draw attention away from the shoulders.
Wearing a pattern like this will also create an elongated effect on the body and help balance the proportions. For example, a form-fitting dress with vertical stripes or a blouse with a subtle vertical striped pattern would be great options.
Be sure to accessorize with earrings and necklaces that draw attention downward to enhance the overall look.
Conclusion
Finding clothes that flatter your body type and size can be challenging, but it doesn't have to be.
By understanding your body type and sizing, you can easily shop for clothes that fit and make you look your best. Inverted triangle body shapes will want to focus on balancing out the top and bottom with fitted tops, flowy skirts, and layering pieces.
No matter your body type, there is always something out there that looks great on you. You can find clothes that fit your shape, size, and personality with the right style tips.