See-through and perspective are adornments that, while relatively recent, have become extremely popular in fashion and have turned almost into a staple of it. While delicate, thin cloth that allows the light to penetrate has existed for a long time (chiffon, lace, mesh or other types of sheer fabric) it was only used as an adornment on most types of clothing as it was considered too "immodest" and indecent to be used regularly on fashion, but during the 18th Century, there was a trend of women wearing "drap over see-through robes" following the oriental fashions of the time and while it was widely criticized by men who thought it was too daring and it resembled a nightgown too much, young women loved the trend and flocked to it, adopting this dresses in their wardrobes.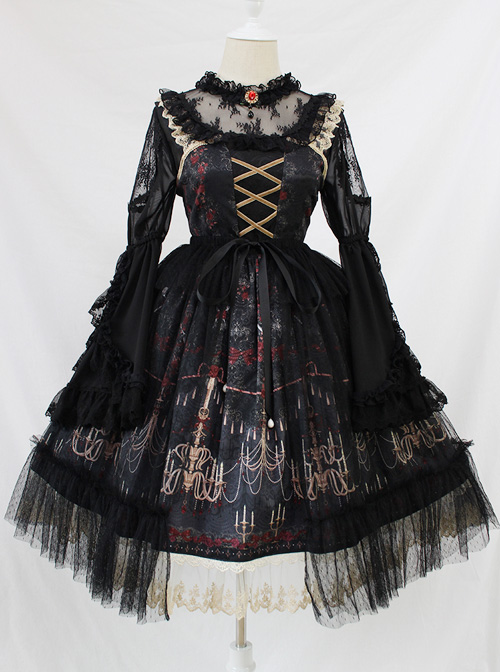 More recently, there has been a "see-through fashion wave" during the year 2008, where several famous designers like Jean Paul Gaultier or Yves Saint Laurent released collections with numerous pieces made out of see-through fabrics (especially shirts and blouses) and the trend crept back into popular, mainstream "fast fashion" quickly and it is still in full force: in any reasonable prices clothing store like Zara or H&M we are going to find a wide array of puffy blouses made out of chiffon that is to be worn with or without a bra underneath and lace bodysuits that give off the impression of nudity: it would seem that this see-through trend is a good compromise between elegance and sexiness!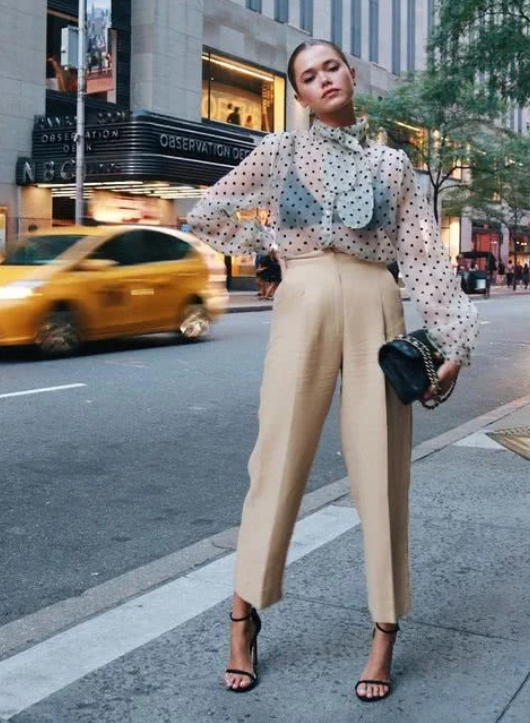 Of course, lolita fashion couldn't ignore the trend but in lolita, this style takes more from the Victorian era than from the current mainstream fashions. In the 18th Century, the famous French Queen Marie Antoinette made the daring decision of requesting a painting of herself in a very thin, almost transparent "chemise" (what we would nowadays consider a nightgown) and this was one of the crucial moments that inspired women to adopt thin, see-through clothing into their fashion. During the Victorian era in the 19th Century, semitransparent cloth like muslin, chiffon, or gauze was commonly incorporated in Summer and Spring dresses as they were fresh and easy to move in, but they oftentimes have a piece of darker clothing underneath to preserve the modesty of the young girl wearing it.
During the year 2015, lolita fashion saw a trend appear across most popular brands featuring thin, very sheer pieces of clothing that were supposed to be worn on top of the regular dresses: the peignoir. This "dress covers" were clearly inspired by the nightgown Marie Antoinette wore in the famous painting "Chemise à la Reine" and they were also inspired by the Victorian nightgowns of the 19th Century. This original piece of clothing was unline anything seen before and it quickly swept the fashion. Suddenly, everyone was wearing a peignoir… even though they really didn't have any other function that being fashionable and looking pretty
This trend offered not only a wink to the trends of the past, but it also gave fashion a touch of sexiness and class which wasn't something habitual in lolita fashion: this fashion is often more concerned about looking cute and adorable rather than looking sexy. In addition, it also gave the coordinates a very romantic and approachable touch and made us think of a romantic heroine that has fallen sick and has to rest at home in her nightgown taking care of herself. This image was very desirable for lolita fashion, and so the trend became really popular really fast all over the world.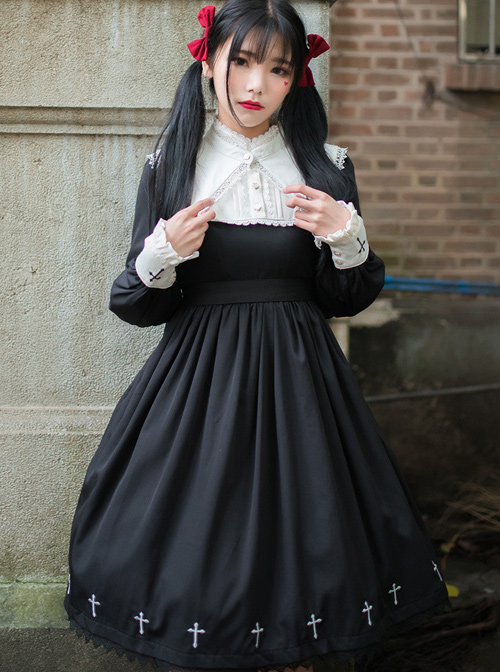 However, the trend disappeared as quickly as it came and in the year 2016, it was difficult to see lolitas wearing peignoirs with their dresses. However, see-through clothing remained and became more popular (it was already popular before, but the trend became even more popular and more and more girls adopted it after peignoirs became fashionable) and nowadays it is not difficult to find dresses made out of delicate, see-through clothing or with adornments made with this kind of cloth.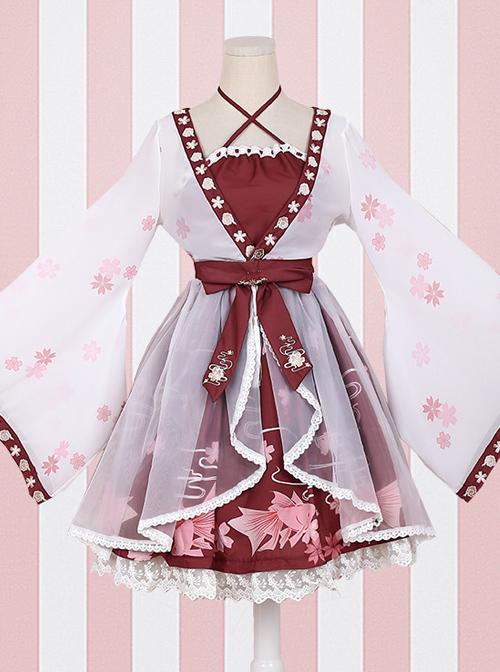 A lot of girls have also decided to combine see-through pieces of clothing with lolita fashion, and they like to wear gauze blouses under their dresses or combine them with their skirts for a glamorous effect.
See-through materials are not only comfortable to wear and really light, breathy, and soft during Summer but they also give an air of mysteriousness and of glamour that is difficult to get with other materials. Showing the body partially makes us wonder what's underneath the clothing, giving an air of class and sexiness that is difficult to replicate with other materials.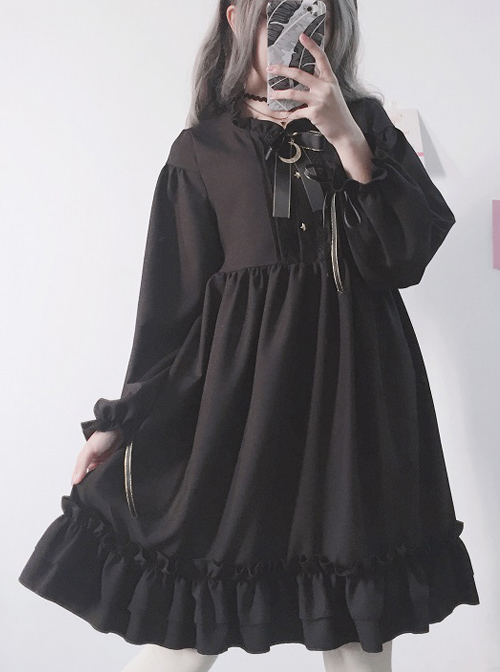 However, these materials are also very soft and delicate and can provide a soft, willowy, and angelical image when used properly thanks to the carefree, laid back air they can have. Sometimes these materials are also used to give off a cute, delicate, ethereal impression instead of a sexy or classy one!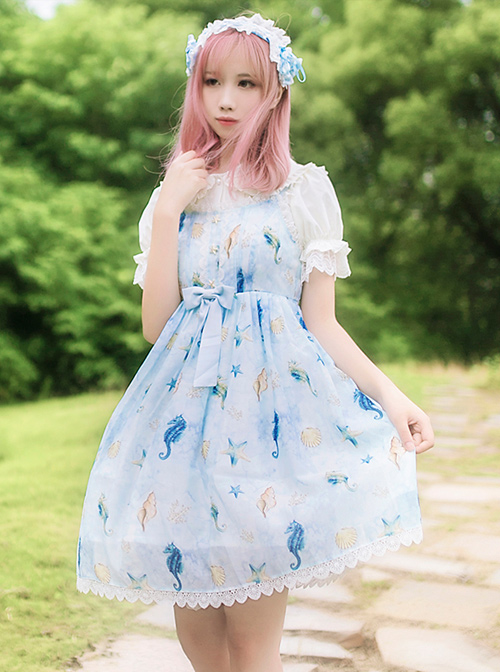 This material is not only soft, comfortable to wear and fresh but as explained before they are incredibly fun and versatile, and they can create a completely different image and look depending on how you use and combine them: they can give off the air of a sexy, classy Victorian vampire or the air of a delicate, willowy, demure angel depending on how you want to use them.
Knowing this, it shouldn't be a surprise that they became so popular, both in lolita and in mainstream fashion. This incredible material are really high quality, comfortable and you can use them to create any sort of style that you like so they are going to be incorporated more and more in mainstream fashion as the traditional rules dictating that women should be modest and hide their bodies away are being erased and replaced by new guidelines of what's appropriate and what's not: some women are wearing actual see-through underwear as their clothing now, so do not be shy and experiment with see-through materials too!