If you are person who gives comfort more priority over style then there is no need to worry. Now, there are clothes available that offer you comfort as well as add to your style statement. If you like the funky look then you can grab the boxing pants and sweatshirts. You can either get a matching pair or purchase them separately. This outfit is best for daily comfort wear and best for those who are athletes. You can explore the huge collection online and fill your wardrobe with some of the best collections.
Here are some of the best products that you can check out.
Thai boxing kickboxing shorts
Also termed as trunks, these stylish shorts are made from silk material. Thus, it is very smooth on the skin and offers the comfort that you are looking for. It is available in several colors and there are lettering details printed on it. The design pattern is attractive and you will look stylish in it.
Lace-up Solid Color Yoga Shorts
If you are looking for something stylish and different from the traditional boxing pants, you can go for these solid-colored shorts. It has lace detailing and comes with two pockets that allow you to carry your stuff with ease. It is available in various sizes and you can easily get one of your choices. You can match it with a dark-colored hoodie for an eye-catching look.
Plain Black Boxing Shorts
If you want to keep it simple then you can invest in the plain boxing shorts. It is available in black color and thus you can pair it with any color top. The material used in making it is spandex and polyester. It has moisture-wicking ability thus it is best for exercising sessions. The flatlock stitching makes sure that it can bear great tension and will not tear.
Boxing short-sleeved hoodie
This hoodie is a best option to be paired with the boxing shorts. It will give you a stylish look. The short sleeves and hooded cap gives a stylish look. It is designed especially for boxing warm-ups. The shoulders are provided with wide cuts that makes movement easy.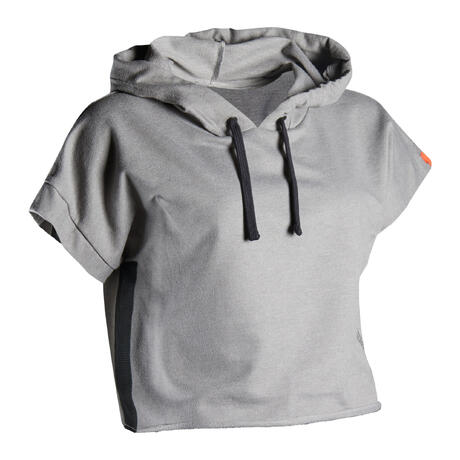 Studio restorative hoodie
This hoodie will give you a casual look yet stylish look. Heavy cotton fleece is the main material used in this fleece. Thus, it is very soft and offers a high level of comfort. The hoodie is two layered and keeps you warm in cold winters. The oversized style gives you a modern style.