Can a hat make you look more elegant? Of course!
Hats are versatile accessories. It will not only protect your face and hair but will also elevate your entire look. Hats come in various types, each of which can create a different look, from sporty, girly to elegant. While it can be quite challenging to coordinate, a well-matched hat will make you look effortlessly stunning. Among the many types, one that you should have to enhance your elegant style and character is the top hat.
Yes, we're talking about top hats, which have been an essential part of men's fashion for over a hundred years. Top hats have an aesthetic and distinctive shape, tall with a flat crown, and that's what makes them so recognizable. Originally top hats were only worn by men for formal occasions in Western culture, but since the Victorian era, it was more common for women to wear top hats as well. And now top hats are flattering accessories that anyone can wear to look fashionable.
Women's top hats now come in a variety of styles and colors. Even so, the classic design of top hats is still worn today. Cara Delevingne is one of those celebrities who showed us that even a tuxedo and top hat can create a stunning silhouette for a modern woman.
So, if you also want to look elegant and fashionable, the 7 top hats below can be the best choice to complement your style at various events. If you're ready, let's get started!
1. Crystal Band Black Leather Top Hat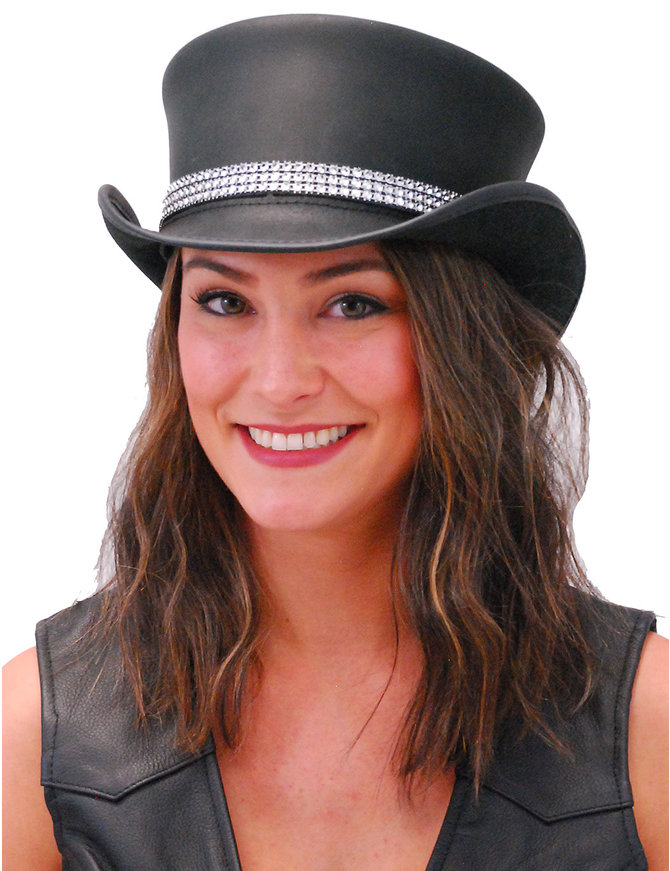 A black leather top hat studded with sparkling crystals is perfection. This top hat comes with a classic design, a 5-inch crown height, and a stylish curved brim. This minimalist design already looks elegant in its way. However, the rhinestones hatband accent makes it even more gorgeous. The combination of thick leather and a crystal band achieves an elegant and luxurious look but does not seem excessive because of its minimalist design. This top hat is comfortable for anyone to wear as it features an anti-microbial sweat liner pad to reduce odor.
2. Women's Leather Steampunk Top Hat
Let's bring back the fashion vibes of the Victorian era!
Steampunk style in fashion has always attracted attention because of the combination of retrofuturistic and aesthetic touches. When that style comes in a leather top hat, it can definitely get your attention for your elegant look. This flattering top hat is medium height and has lace and feather details on the band for a statement point that will compliment your style. It is the perfect summer accessory for going to festivals, concerts, or on vacation.
3. Red Short Top Hat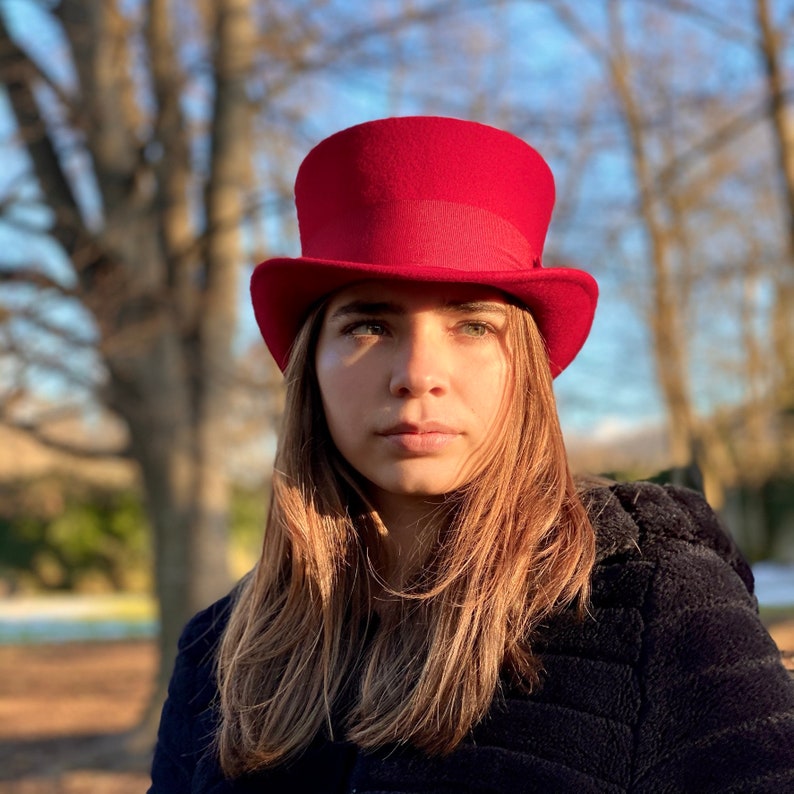 If you are a beginner, you can start with a short top hat. The low crown makes this women's top hat comfortable and looks more normal for everyday wear if you're not confident enough with the flashy look.
This short top hat features a slightly curved brim for a classy feel, and it's reinforced with fine wire on the inside to maintain its flattering shape. The simple design and soft wool felt material make this hat the ideal accessory for your casual everyday look or any festivity. Of course, red is the perfect color for confidence and trendy style, but you can always pick any color on your favorites list to spice up your outfit!
4. Straw Top Hat with Flowers in Blue Tones
Your flowy floral dress won't be perfect without it, so make sure you have this women's flattering top hat in your wardrobe!
Originally, top hats were more commonly made of silk. But these days designers are innovating on materials to make modern versions of top hats more durable and less prone to damage. Apart from leather, mesh, or felt, straw is also quite popular. This material provides several benefits such as being lightweight, breathable, and absolutely fashionable.
The adorable blue flower embellishment will look perfect for your spring and summer days. You can add this top hat when wearing your favorite floral dress to make you look more elegant. Whether you're walking in the garden, having a picnic, or having a special event, this top hat will turn all heads at you.
5. Elegant Top Hat With Veil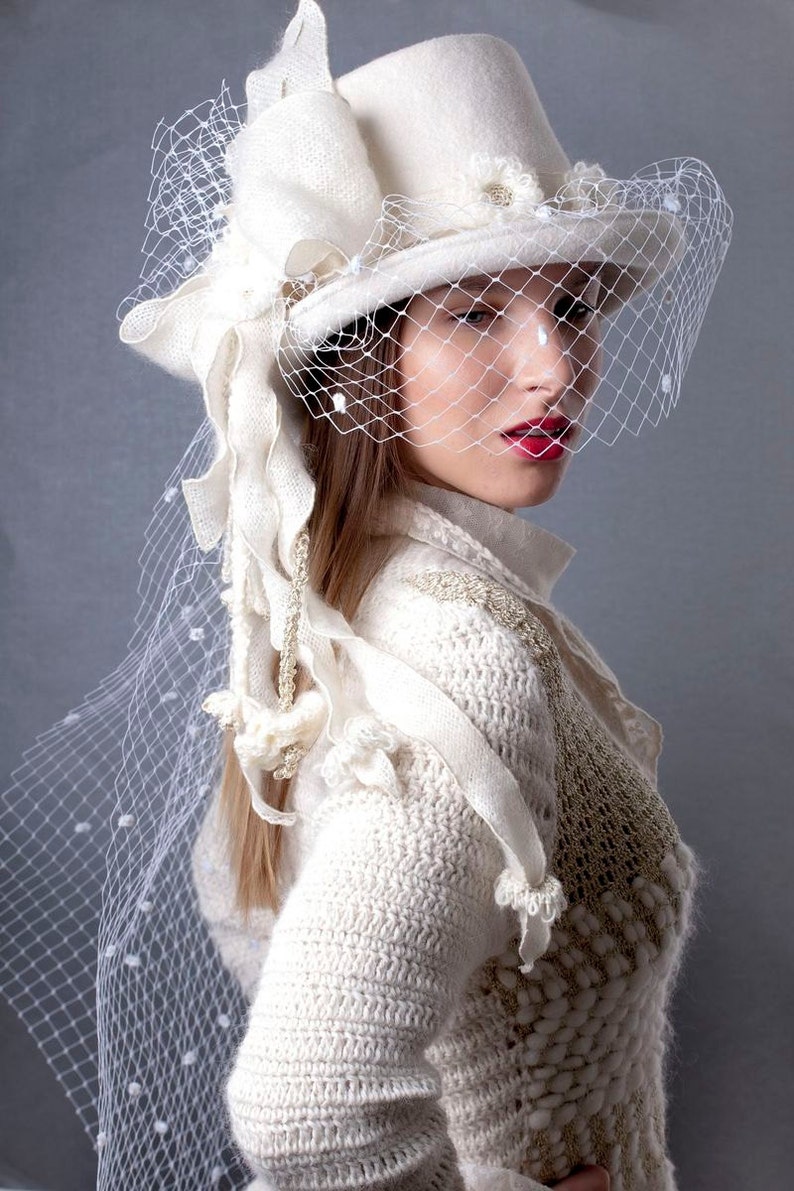 Since it has become increasingly popular as a women's accessory, top hats have been hunted to become a fab ornament for parties and even a fashionable bridal headpiece. If you also crave elegant accessories to pair with your wedding dress, this white top hat with a veil is worth your look.
Women's top hats for parties or weddings are generally designed with flattering embellishments, including veils, lace or flowers. The selection of premium materials is also prioritized to give a luxurious and classy impression.
6. Straw Pharrell Hat With Bow
Another statement top hat that you must have to complete your elegant look!
Straw is still the favorite material for top hats because it is lightweight, water-resistant, and environmentally friendly. Even though this hat comes with a fairly tall crown, the lightweight straw material makes it comfortable to wear. Its unique and fashionable bow design will take your look to the next level. The minimalist design is complemented by soft colors, which makes this hat even more elegant and classy for you to wear on special occasions.
7. Women's White Leather Top Hat
A white top hat never fails to give you an elegant look, instantly. This hat can be a flattering accessory for casual occasions, outings, or parties. It can also never be the wrong choice for a wedding, in case you don't like too much embellishment and veils. The design is simple, clean, neat, and firm. How elegant and classy!
Top hats made of thick, high-quality leather offer great shape retention, and are soft and easy to clean. Apart from its quality, a leather top hat will always look fashionable in all seasons.