Are your gearing up for Homecoming but are confused on what to wear? Been there, done that. Homecoming is an exciting time of a student's life and makes you reminisce all the beautiful years in your school/college.
A moment of such importance, where you meet and greet all your fellows and teachers, needs to be well-dressed for. That is where we are happy to jump in and help you choose the best outfit for Homecoming.
We all know one thing for sure, blue is the color for Homecoming this year. Check. But what styles do we have in the blue color this Homecoming? Scroll down to find the best dress designs for your Homecoming outfit.
Style Inspiration for you Homecoming outfit
Blue color is deep, regal and royal. However, blue has many shades to offer. Here we are to serve you the range of blue hues we got you to offer.
Satin Silk Dress in Light Blue
Satin and light blue with delicate straps? It's a dream beam. Rock this trendy combination as your Homecoming outfit. It's an all-rounder which can be used in other events too.
The bodycon style with a side slit, spaghetti straps and lush look accentuates your beauty. Pair this outfit with high heels, dainty jewelry and complete the sleek look. The midi length keeps you modest but not out of style.
Fabulous Affair Navy Blue Satin Surplice Dress
The longer the name, the fancier the dress we say. The spaghetti straps provide a sense of adaptability while the sleeveless bodice and surplice neckline radiate refinement. The dress is fitted in all the right places by the high, banded waist, which highlights your form.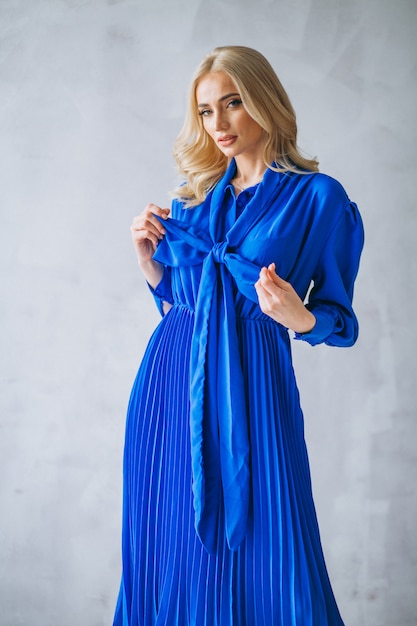 Go deeper in the blue hues this Homecoming.
Forever Your Girl Royal Blue Bodycon Dress
Don't shy away from this electric blue bodycon dress because it is Homecoming. Exhibit style and own it like a queen in this best-fit. The hugging bodycon style with a front flap and pleats with straps to hold the neck at the best place.Image Source:
This shade of blue is sophistication in style right like you want for the even like Homecoming.
Romance Language Blue Backless Lace Dress
The breathtaking beauty of the Lulus Floral Lace Backless Homecoming Dress will command everyone's attention like no other.
This gorgeous dress combines a bodycon form with the charm of exquisite floral lace. Additionally, it will make you appear self-assured and memorable.
Shape the Night Cobalt Blue Asymmetrical Midi Dress
With the fashionable Midi Dress, exude a stylish mood. The fit of this garment is both cosy and attractive. The darted bodice accentuates your figure, while the asymmetrical neckline adds a dash of modernism. Spaghetti straps with adjusters offer a flexible and safe fit.
This dress is versatile and trendy without being too out board.
Style the best blue dress this Homecoming with our style edit and make the best out of this special event. Style served!